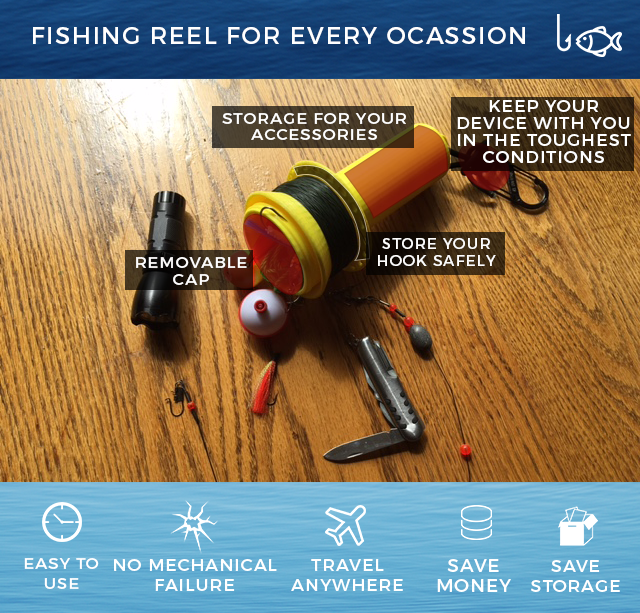 "I found that the Murray Reel was a gem mixed in with the rocks. It is a hand line system you can pack and take with you anywhere to be ready to fish at a moments notice. The entire reel fits comfortably in your luggage, backpack, under a car seat, or just about anywhere you may need to store it." -The Fisherman's Journal
Fishing and traveling has been a passion of my wife and I for many years now. Whenever we travel, I always try to fit a day or 2 (or 3 or 4 or 5, etc…you understand) of fishing in. Renting fishing equipment and/or going on a charter fishing trip while traveling can get very expensive. Renting a rod in another country also comes with risks, for instance if you break or snap it, you'll end up having to pay a lot more than just the rental fee…(trust me, it's happened to me before). That is where the Murray Reel comes in. This is the ultimate fishing gear for traveling. Inspired by the ancient art of handline fishing, it's a compact, travel-friendly reel and tackle box in one.
We invented the Murray Reel because of our love for fishing and traveling- our aim is to make it easier for everyone to be able to enjoy it wherever they go. It's made our fishing trips abroad much easier and convenient. It's so easy, all you do is fill the inside storage compartment of the reel with your tackle and you have everything you need. No need to rent equipment, just put it in your luggage and you can fish at your leisure wherever you end up.
It's great for travel, fits easily in luggage. It's perfect for backpacking, camping, kayaking, hiking, even surfing. It's great for survival kits, and fits nicely in the glove compartment of your car.
It's the perfect gift for any outdoorsman or woman!
HOW TO USE THE MURRAY REEL:
STEP 1- Hold the base of the reel with one hand, unravel some fishing line with the other hand.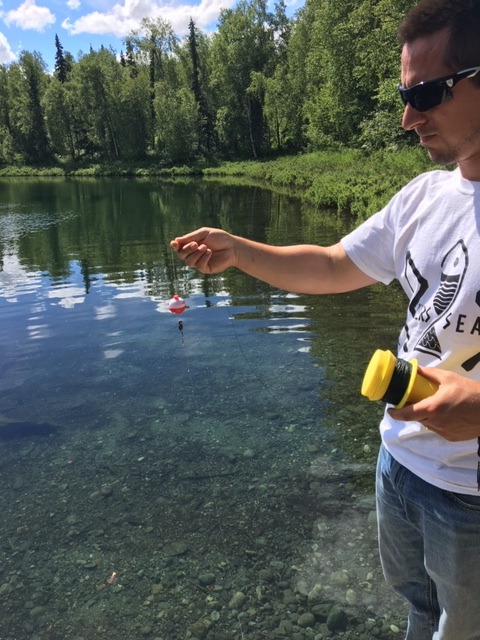 STEP 2 – Swing the fishing line in your hand to gain momentum for casting.
STEP 3 – Cast the line into the water while aiming the reel in the direction of the cast.
STEP 4 – Turn the reel sideways to reel in the line by wrapping it around the upper mid-section of the reel.
PRODUCT FEATURES
* Internal space for storing tackle (or anything else you need for a day of fishing).
* No moving or mechanical parts thus it's not susceptible to mechanical failure (and won't snap like a fishing rod).
* Can catch small as well as large fish, from 2lbs to 40lbs and more.
* Knob at the end to tie a knot or hook a carabiner- can wear on wrist, hook on loops of pants, backpacks, etc.
* Small, compact size means easy storage in luggage, glove compartment, backpack, in kayak, etc.
*Waterproof
REEL DIMENSIONS AND MATERIAL
Length of reel from top to bottom- 7.5 inches, diameter of the handle is 2 inches, diameter of the rounded top- 3.5 inches. The reel material is made from a high density polyethylene plastic.
DESIGN PROCESS
While in our garage one day, I decided to make a hand line fishing reel out of a PVC pipe because we were going on a vacation and I wanted my own equipment and the freedom to fish anywhere, anytime. As the saying goes, "necessity is the mother of invention," and that couldn't be more true in this situation. I took the reel on our vacation and have been taking it with me wherever I go.
Over the past 2 years, we went back and forth with our design team, making the necessary tweaks and changes in order to make fishing with the Murray reel as simple, fun, and accessible as possible. And most importantly, to ensure you can catch fish with it as easily as possible!
For the last year we have been doing our research and gotten quotes from several different manufacturers. We need to get an injection mold made for our product in order to get it manufactured on a large scale. Our goal is the minimum amount we need to get the injection mold along with our first large scale order of our product.
This is our second go around on Kickstarter. We learned a lot the first time and made some tweaks to our campaign page and also significantly lowered our goal. We will be recieving a business loan and doing some self-funding to cover any differences. We are very excited about getting this product out to you!
Team
I love to fish and Sarah loves to travel- each passion has rubbed off on one another and now we both love to travel and fish. We love the outdoors- camping, backpacking, kayaking, hiking, etc. We have immense respect for nature, the outdoors and every fish we catch. We care deeply about over-fishing, the destruction of the reefs and ocean life and we do what we can from donating to the local Marine Mammal Center to beach clean-ups to staying educated and informed.
The Murray reel reflects our passions and values. Hand-line fishing is the oldest and most sustainable form of fishing. There are no mechanics involved- just the individual, the reel, their smarts and strength, and their hands. Nothing fancy, no gimmicks. Another one of our favorite aspects of the Murray Reel is how easy it travels. We hate to carry around bulky equipment and this nips that problem in the bud. We just grab the reel and go! So simple, convenient and fun. We hope that you enjoy the Murray Reel as much as we do, catch a plethora of fish and experience fantastic travels! See you out there!
Check out our KickStarter Campaign Rewards!
The Murray Reel – gives you the freedom to fill it with whatever you choose. This is a great choice for those of you who already have the necessary fishing supplies.
Below is The Murray Reel River Package – includes the supplies you need for a great day of river fishing. Supplies include:15lb test mono line, a lanyard, 1 bobber, 3 snap swivels, 2 egg sinkers, a pair of nail clippers, 3 10# hooks, 2 4# hooks, 2 small nymph flies and 3 assorted small game lures.
Below is The Murray Reel Sea Package – includes all the supplies you need for an awesome day fishing the sea. Supplies include: 40lb test mono line, 3 large snap swivels, 1 sliding snap swivel, 2 2oz sinkers, fingernail clippers, 2 5/0 hooks, 2 4# hooks, 2 large shrimp flies and 2 assorted large lures.
Salvează